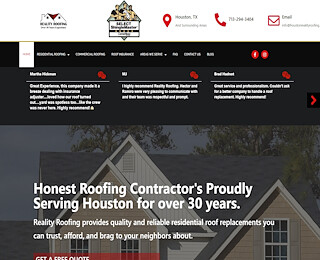 Take a closer look at Reality Roofing when searching for a Houston residential roofing company that has your interests as its focus; we've earned high marks throughout the 30 years we've been serving your community, for honesty, trustworthy business practices, and affordable rates on all roofing services. Before you hire a roofer, speak with our Certified Roofing Contractors, and get a second opinion that could save you thousands of dollars when restoring your roofing system.
Trust Us For Repairs and Roof Replacements
If there's one thing we know at Reality Roofing, it's that choosing the right roofing company will make all the difference in your customer experience. So many roofers want to completely replace your home's roof without ever offering you the option of a budget-friendly repair. That's not how we do business- reach out to one of our Houston, TX residential roofers for a thorough roof inspection and professional recommendation with your budget in mind.
Experienced Residential Roofers in Houston, TX
With more than 30 years of expertise to draw from at Reality Roofing, we can offer our customers more options and superior workmanship. From simple to significant repairs and roofing upgrades to roof-overs and total roof replacements, we know what it takes to protect your home from the elements during the coming years. Don't hesitate to reach out to us with questions about our services, rates, and experience.
Hire Local Roofing Contractors in Houston
Supporting a local family-owned roofing company means your money will stay local, serving to build and strengthen your community. When an out-of-town roofer works on your roof, most of your money will enrich someone else's community instead of yours. Make the smart choice and hire Reality Roofers, a hometown Houston area roofing company owned and operated by a local family.
Honesty is Our Policy
When you contact Reality Roofing, you'll have immediate access to the benefits of working with a trustworthy residential roofing company in Houston. Unlike so many other roofers who want to influence their own bottom line instead of keeping costs down for their customers, we are genuinely interested in protecting your budget while restoring your home's roofing system. The choice you make when hiring a roofer will have a direct impact on your customer experience- choose us for Houston residential roofing.
Get to Know Our Roofers
Make a quick phone call to our team to request a free estimate; reach us at 936-641-3123. We'll take a closer look at what's going on under the surface by scheduling a roof inspection, after which we will discuss our findings with you. If we can make repairs, that's what we'll recommend first, otherwise, we'll recommend a roof upgrade, roof-over, or complete roof replacement. Rest assured, we will thoroughly vet all options and get your approval before we begin the work.
Place your trust in the Houston residential roofing company so many of your neighbors have relied on over the years to protect their homes from the Texas elements- contact us today.
Reality Roofing
7132945602
19204 Kanawha Dr.
Porter TX 77365 US