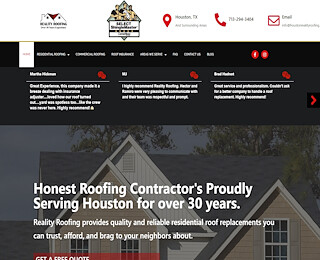 Houston's Trusted Roofing Contractors is a family-owned roofing company in Houston with a team of certified technicians, cutting-edge technology, and unbeatable workmanship. Our budget-friendly roofing solutions and exceptional customer service make us the most sought-after roofers in Houston.
Top reasons to hire a family-owned roofing company like ours
Hiring the right contractor in Houston, TX, for your roofing needs can be a daunting task for homeowners. When you hire a local roofer, you have the advantage of geographical proximity. You can drive to their office, ask to look at some of their roofing jobs in the neighborhood, and meet with them if any roofing repairs are within the warranty period. Also, scheduling is a lot easier when you hire a local Houston roofing company. Ranked as the best roofing experts in Houston, TX, for roof installation, replacement, and repairs, we provide high-quality roofing services in Houston.
Besides, as a family-owned business, we always look forward to creating a long-term relationship with you and go to great lengths to address your roofing problems. We are one of the best roofers in Houston to provide you with durable roofing solutions along with a warranty claim. Our in-depth knowledge of the international building codes and unique roofing standards in Texas allows us to provide our clients with a roofing solution that can stand the test of time without burning a hole in your wallet.
Does insurance cover roof repairs?
Homeowners' insurance covers roof damages resulting from hail, fallen tree damage, and wind. However, it does not offer coverage for leaks caused by wear and tear, low maintenance, or the roof's age.
Each homeowners' insurance policy is different, and the privileges you get can vary depending upon the plan you choose. Ranking among the top roofing companies in Houston, we offer roofing repairs, installation, and replacement at economical prices regardless of whether you have insurance or not.
How do I fix a leaking roof?
You must identify the cause of the issue to come up with a fix for the leaking roof. Here's how you can do that:
Cracked flashing – The metal strip or the flashing that acts as a water-resistant barrier between the roof joints is susceptible to cracks and corrosion. To fix the metal strip, pry up the material gently, remove the nails, nail a new flashing in its place and reseal.
Broken or missing shingles – Heavy or high winds can break the shingles or lift them from their place. Lift them shingles with a pry bar, remove the nails from the old shingles gently, and nail a new one in its place.
Cracked vent booting – Vent booting is the gasket that helps seal roof vents. Use a knife to cut the old boot and install a new one under the shingles. Make sure to secure it with nails and caulk.
Contact Houston's most trusted roofing contractors at (936) 641-3123 for a free estimate or visit our website to tell us about your project. Your search for a reliable family-owned roofing company in Houston ends here. Get in touch with us today.
Reality Roofing
7132945602
19204 Kanawha Dr.
Porter TX 77365 US