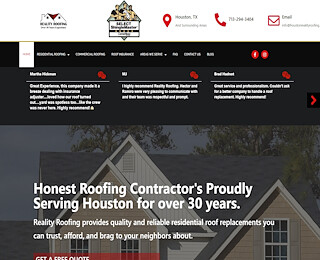 It is not uncommon to hear homeowners in the Houston area complain about the weather sweeping away their roofs. Unfortunately, it is difficult to tell when you will experience a roofing emergency. Therefore, consider finding a contractor in Houston, TX, before you need one. Houston Reality Roofing specializes in providing speedy emergency roof repair to Houston and surrounding counties' residents.
24 Hour Emergency Roof Repair
When you have a leaky roof, you want a Houston roofing company to quickly fix your roof. Houston Reality Roofing is known for responding quickly and providing speedy emergency roof repairs. Our team of experienced roofing technicians is always on the ready.
We get into full operation shortly after receiving your call because we understand that the best time to fix a roofing problem is when it shows. The longer it takes you to fix your roof, the more damage it will cause to your property. Therefore, we strive to ensure we get to your site as soon as possible.
Quality Roof Repairs
Houston Reality Roofing has gained a reputation for being one of the best roofers in Houston. We understand how quickly you want things to get back to normalcy when you have a problem with your roof. Our staff will help you fix your roofing problem quickly and effectively.
Our company consists of professional technicians with years of roof repair and maintenance years. We are one of the best roofing experts in Houston, TX. Our contractors have exceptional skills in all aspects of roofing. Only experienced professionals will handle all issues uncovered by our roofing technicians.
Licensed and Insured
Houston Reality Roofing is fully licensed and insured, which means we know the latest building codes and laws. In addition, our credentials give clients peace of mind knowing they are dealing with one of the top roofing companies in Houston. Working with us translates to quality workmanship.
Our company offers a wide range of emergency roof repair services. You can call us anytime you need repair for an emergency leak, damaged gutter, or a roof that has been blown off. Houston Reality Roofing is always available to offer professional help.
When we come to your home for emergency roof repair, we make sure we tailor our services to meet your needs. We will consider all factors, including cost, energy efficiency, the weather, and available roofing materials. Our company offers a wide range of roofing options.
Emergency Roof Repair
We offer 24-hour emergency repair for a damaged or leaky roof. In addition, we use the best roofing materials in all our repairs to ensure the longevity of your roofing system. We will collaborate with your insurance provider to restore your roofing to its original condition. Our staff will work hard to make your insurance claims process as quickly and easily as possible.
Housing Reality Roofing offers emergency roof repair for hail damage, leaky roofs, and general maintenance.
Please contact Houston's most trusted roofing contractors and tell us about your project: (936) 641-3123 or https://houstonrealityroofing.com/tell-us-about-your-project/.
Reality Roofing
7132945602
19204 Kanawha Dr.
Porter TX 77365
US